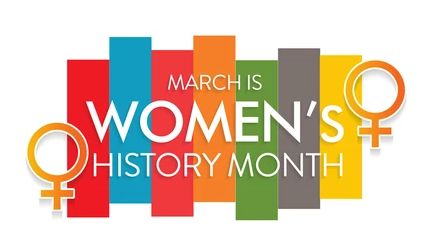 Let's talk about some famous women in both past and modern history! But before we do that, did you know that Women's History Month started as just Women's History Week? It started as a local celebration in Santa Rosa, California when the Education Task Force of the Sonoma County created the celebration in 1978. They selected the week of March 8th to correspond with International Women's Day. In February 1980, President Jimmy Carter issued the first Presidential Proclamation declaring the Week of March 8th, 1980 as National Women's History Week. Then between 1988 and 1994, Congress passed additional resolutions requesting and authorizing the presidents to proclaim March as Women's History Month. Since 1995, each president has issued an annual proclamation designating the month of March as "Women's History Month." Now on to some notable women!
Marsha P. Johnson was an American gay liberation activist and one of the prominent figures in the Stonewall uprising of 1969. Johnson established the STAR House, a shelter for gay and trans street kids in 1972 and was also an AIDS activist. She helped to revolutionize the LGBTQ+ community and was a champion for gender non-conforming people.
Chai Jing is a Chinese journalist who has been calling attention to China's pollution problem. She her broadcast career as a radio host in Hunan Province in 1995 and from 2001 to 2013, she worked for China Central Television as a well respected investigative reporter and host. In 2015 she was also named one of Time Magazine's 100 most influential people.
Obiageli Ezekwesili is a Nigerian economic analyst and the champion of the #BringBackOurGirls campaign which aimed to bring back kidnapped girls from a Chibok school. She founded the anti-corruption group Transparency International, served as Nigeria's Minister of Education in 2006, and as Vice President of World Bank's Africa division from 2007-2012.
Kira Orange-Jones is the Executive Director of Teach for America in New Orleans and helped to rebuild the broken education system in the 10 years since it was devastated by Hurricane Katrina. Under her guidance on-time graduation has increased from 50% to 75%, and college graduation has more than doubled.

Dr. Kizzmekia Corbett  is a researcher and scientific lead at the National Institute of Health and is on the frontlines working with a team of scientists, studying Moderna's vaccine. She obtained her Ph.D. in Microbiology and Immunology in 2014 from University of North Carolina at Chapel Hill. The vaccine concept incorporated in mRNA-1273 (Moderna) was designed by Dr. Corbett's team from viral sequence data. She has 15 years of expertise studying dengue virus, respiratory syncytial virus, influenza virus and coronaviruses. Along with her research activities, Dr. Corbett is an active member of the NIH Fellows Committee and avid advocator of STEM education and vaccine awareness. She is trying to ensure that all communities are getting the vaccine and will continue to be a bastion for science for many vaccines to come.
I hope that the stories of these women inspire you, and I hope that you will do your own research of amazing women yourself! Do you have to write a paper on a famous woman, but can't find something that is quite right in our books? Check out our online resource Academic Search Premier and you'll be able to cite some of the online sources as if they were physical books! Log in with your library card number and you'll have access to all sorts of databases, including academic journals and ones they use in universities. Here's a link for easy access: https://search.ebscohost.com/login.aspx?authtype=ip,cpid&custid=ns220870&profile=ehost&defaultdb=aph
---
SHARE THIS: