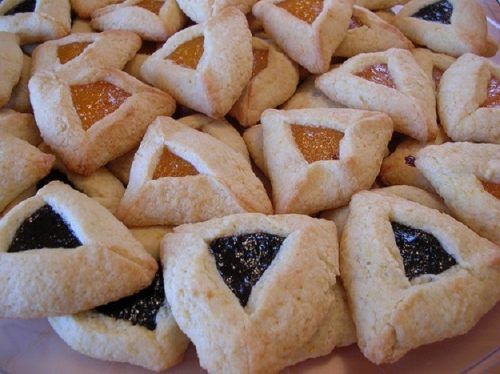 The Jewish holiday Purim, or Feast of Lots, is coming up on February 25th, so it's time to pull out the fun costumes, noise makers, and yummy cookies! To commemorate being saved from persecution in the ancient Persian Empire, the Jewish people will  give gifts or charity to those in need, called matanot l'evyonim, perform a Purim spiel, a satirical show either dramatizing the Purim story in a humorous way, or just a funny skit on any theme, and most importantly, have an fantastic feast, or Seudat Purim. One of the most popular Purim treats is a Hamantaschen, or "Haman's pockets". These tricornered pastries have contested origins, ranging from looking like hats to ears, but they are always a staple at any Seudat Purim. Here's an easy recipe for you to try at home! I recommend prepping and covering the dough and refrigerating overnight. Also, you can have fun with the different fillings if none of the "traditional" fillings sound appealing to you! I've put Nutella in the center a few times instead of preserves and it was awesome.
Ingredients:
3 eggs
1 cup granulated sugar
3/4 cup vegetable oil
2 1/2 teaspoons vanilla extract
1/2 cup orange juice
5 1/2 cups all-purpose flour
1 tablespoon baking powder
1 cup fruit preserves, any flavor
Directions
For more information about Purim, click here. 
---
SHARE THIS: