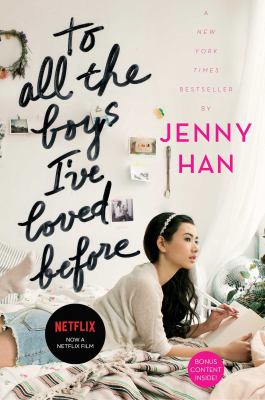 It really wasn't until I went back to school to become a librarian that I discovered the delightful world of young adult literature. I chose a class where we had to read 50 Young Adult Books –we had to write a lot! Even though I had heard of Jenny Han, I had never read any of her books.A couple of weeks ago I was in the mood for a light read – you know the kind where you don't have to do too much thinking! So, I checked out To All the Boys I've Loved before through Santa Clarita Public Library ebooks using the Libby app.
The plot revolves around teenager Laura Jean, hers sisters Kitty and Margo, various friends, and friends/boyfriend Josh and Peter. Lara Jean has a special box where she keeps letters that she has written to boys that she was crushing on. These love letters are written to the boys expressing what she loves about them and also what she dislikes. By doing this it allows her to close the door on the relationship that is in her mind.
Each letter is addressed to her love interests but they always stay in the box. That is until one day the boys she wrote to start talking to her and she is horrified to discover that somehow her letters were mailed out!
This is a fun, rather realistic, teen romance read in which the story line has a nice flow. I liked it enough that I got invested in the characters and am currently reading the second book in the series. This is not just a book for girls. I believe boys will be intrigued to have a chance to discover what the girls are really thinking and why they act the way they do.
Will you be Team Peter or Team Josh? Whatever you decide, sit back and enjoy.
---
SHARE THIS: