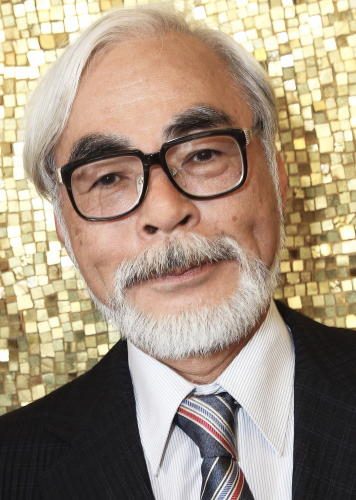 It's impossible to talk about anime movies without talking about the influence of Hayao Miyazaki. Often noted as the one of the most important anime creators in Japan and as the co-founder of the major studio, Studio Ghibli; Miyazaki has had an enormous impact in Japan with his varied and creative movies. Smashing box office records both locally and internationally for anime films, Miyazaki's creative animated features have delighted generations of viewers. Miyazaki Hayao is also possibly the best known anime creator in the United States, and one of the best directors to get familiar with. His works have influenced many major United States directors, been distributed and dubbed by Disney, and remain the only anime film to win an academy award. Today I will look at ten of his outstanding films that I feel are the most historically important and the most enjoyable to cover. While some of his works, as well as the works of other Ghibli directors have been omitted here, all of Ghibli and Miyazaki other films are wonderful and well worth seeing as well.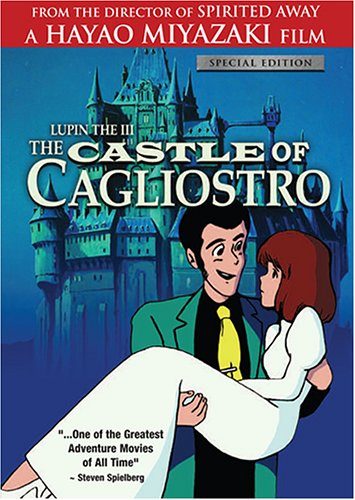 Castle of Cagliostro: Miyazaki's first film was an outstanding adaption of Monkey Punch's Lupin 3rd Series in the film Castle of Cagliostro. Despite being a licensed property, Miyazaki made this film his own. While initially not well received in Japan for its departures for its source material, this film quickly grew into one of the most well regarded adventure, heist, and Lupin the 3rd films in both Japan and United States. Castle of Cagliostro's brilliant animation and story had a profound influence on filmmaker and Pixar founder John Lasseter, and famous director Steven Spielberg. Despite being his first film, this film is regarded as landmark in anime film-making.

Nausicaä of the Valley of the Wind: Nausicaä of the Valley of the Wind has an interesting and unusual history. Miyazaki's first film after co-founding Studio Ghibli; Miyazaki adapted this post-apocalyptic movie from his manga series of the same name. The story focuses upon princess Nausicaa who is fighting to save her kingdom from environmental disaster, trying to make peace with giant insects, and working to prevent war. This film set the stage for Miyazaki's use of environmental themes, anti-war messages and the use of complex and powerful female leads. Originally released in the United States as the poorly edited and dubbed  "Warriors of the Wind," the criticism of this adaption by Torren Smith the founder of manga studio Studio Proteus's inadvertently  helped to jump start Smith's studio and the United States Manga industry. This also cemented Ghibli's refusal to have their films edited internationally. This film is not only extremely historically important, but also stands on its own as a unique and complex film.

Castle in the Sky: Castle in the Sky proved to be a wonderful follow up to Nausicaä of the Valley of the Wind. Taking and expanding upon both Nausicaä and Cagliostro, Castle in the Sky features thrilling adventure of sky adventures with a search for a legendary lost floating city. Castle in the Sky contains many of the elements Mizayaki is famous for and would continue to use in other series including his love for flying machines, environmental themes, and films mixing comedy and action aimed at all ages. Castle in the Sky is both a very smart and thrilling film, and is perhaps one of the most "Mizayaki like," of all Mizayaki's films.

My Neighbor Totoro: My Neighbor Totoro is often regarded as Mizayaki's greatest children's film. The story focuses on two sister's and their father moving into a traditional home in the country to be nearer their sick mother and the two sisters interacting forest spirits. This movie helped introduce Ghibli's most iconic character Totoro, a giant big bellied fur covered forest spirit who often rides a cat bus. The film manages the difficult balance of having a childlike perspective while never talking down to children, flawlessly. It also manages to present a fun plot, while also having elements of deep and serious emotional depth.  This film is charming, cute, and heart-warming, and I cannot recommend it enough.

Kiki's Delivery Service: Kiki's Delivery Service is another film to largely feature flying and flying machines. The story revolves the young witch Kiki who following witch tradition has to spend a year away from home in order to find herself. The story becomes a coming of age story, and one about discovering what really matters in life. The story has its ups and downs for Kiki, as Kiki explores her identity with the help of an older teen artist in the woods and local boy who is a flying enthusiast. This film is very introspective and a wonderful one for girls growing up and trying to find their way.

Porco Rosso: Porco Rosso is a Miyazaki love letter to flying machines. Set after World War I around Italy, it features a mercenary with a pig's face which fights against silly and cowardly sky pirates. Tired of constantly being defeated the pirates hire a flamboyant, flirtatious, and egotistical American pilot and actor Curtis to defeat him. Both are interested in Gina, a fancy and intelligent hotel owner who is still in love with Porco which creates conflict. With the help of his airplane mechanic Piccolo and his designer Pico's Grand-daughter Fio, Porco hopes to best the Curtis. This film is filled with historical suspense, romance, action, comedy and lots of planes. With its distinct setting, beautiful animation, and outstanding plane design, this film is one of a kind.

Princess Mononoke: Miyazaki's most adult film, Princess Mononoke is an interesting departure from his other films with it's story resembling the more adult elements of Nausicaä of the Valley of the Wind. Princess Mononoke is a film about an indigenous prince Ashitaka who is cursed after defending his village from demonic boar with a ball of iron in its chest. Ashikata travels to the West in order to find answers about the boar and the iron ball's origins, and as well as the curse that is slowly consuming him. Princess Mononoke is a complex and challenging film where Ashitaka finds himself in-between two warring factions without any easy answers. On one side is Iron Town led by the ruthless woman Lady Eboshi. Lady Eboshi has formed a town where both former sex works and those with Leprosy who would normally be turned away find empowerment and supported through the sale of iron and fire arms. This ambition comes, however at the cost of the forests around Iron town as she seeks to destroy the great forest spirit the protector of the forest, and the other fierce spirits and gods in order to mine minerals used in iron making. The forest is protected by Wolf gods and San a woman raised by the wolf gods who seeks to kill Eboshi and take back the forests lands, even if it cost human lives. Things get worse when a greedy monk who is after the great forest spirits head fans the flames and a neighboring country seeking the iron for themselves attacks Iron Town. Originally Miramax thought about cutting parts of the film, but when they suggested this they famously were given a Japanese Sword with a direct note attached stating, "No Cuts." I'm really glad there was no cuts to this story, because this one of the most rewarding and beautiful films I have ever seen. This is actually one of my all-time favorite films, and is in my opinion Miyazaki's best film despite being very different from his other films.

Spirited away: Miyazaki's most famous film in the United States, Spirited Away is an incredibly original, clever and heartwarming picture. The film focuses on the young initially complaisant but kind girl Chihiro who ends up accidentally traveling into the spirit realm. She with the help of river spirit she gets a job at a spirit's bathhouse while trying to film a way to save her parents who have been turned into pigs. Spirited Away is a visually stunning work, with all sorts of spirits, magic, and wonderful settings. Throughout the film Chihiro grows as a person, solving problems, and trying to keep hold and return eventually to the human world with her parents. This film was a smash hit both in Japan and United States, where it earned the 2nd highest box office returns of any anime film. It was also the first and only anime film to win an academy award. It's every bit as exciting as its history suggests, and a wonderful and creative film for all ages.

Howl's Moving Castle: The follow up of Spirited Away, Howl's Moving Castle often is unfairly overlooked and compared to Miyazaki's previous film. This is the tale of teen cursed by a witch casts a curse on her that makes her extremely old. She ends up meeting the powerful wizard Howl, his young apprentice Markl, and the fire demon Calcifer who are fleeing a massive war between nations in giant moving castle machine. This story continues Miyazaki's fixation with unique and varied stories that include machines, European style backgrounds, and themes of pacifism. It also continues to have beautiful animation, and unique story telling. Though not seen as brilliant as Spirited Away by many, it stands on its own as an outstanding film well worth watching and should be viewed as its own work.

The Wind Rises: Miyazaki's latest film is one of his most complicated to talk about. This film focuses on life of Jiro Horikoshi, a Japan World War II plane engineer who is inspired by the famous Italian plane designer Giovanni Battista Caproni. It is a difficult story to tell, particularly for the Miyazaki who is known for his disdain for war. None the less he does his best to tell Jiro's story, including the conflicts and contradictions within it. It's a very interesting film, where the lead questions his own actions as much as the audience. This is a story that contains both great triumph and great tragedy, and of one man's dream and resolve to see that dream through. It's this complexity and Mizayaki's own love of flying machines once again shines through in this film, making it a fitting semi-retirement for him.
---
SHARE THIS: