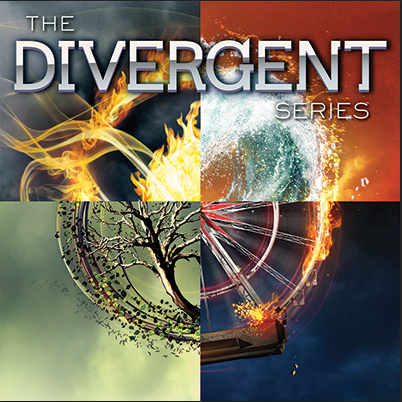 Running out of good books can be disas-Tris, and even moreso when the school year has started and it can be hard to hunt for books to read for fun. The Divergent series is still one of the most checked out items in our system, and shows no sign of slowing down. We're going to make finding a fun new series easy; here's a list of series similar to the Veronica Roth's hit trilogy, each unique in their own way without diverging from that suspenseful near-future dystopia that can be thrilling if not a little daunting. Take a look at these Four similar series.
Divergent actually came out just a short time Prior to Legend, though Legend didn't become as widespread until shortly after. Lu writes about a city split into classes between slums and the elite, with opposing viewpoints. Day, one protagonist, is a freedom-fighter from the slums, while June is  the up-and-coming prodigy student of the high class military academy, brought together by one event, the mysterious death of June's brother.
The Testing is a strange and interesting mixture of The Hunger Games trilogy, the Divergent Trilogy, and very, very deadly standardized testing. After finishing regular schooling, the best and the brightest hope to be chosen for a set of grueling challenges to be chosen as an elite team working to fix the planet ravaged by war and disaster. Cia, the protagonist, is strong, capable, and intelligent similar to Tris Prior or Katniss Everdeen.
Red Queen is another story of a society torn between factions, belonging, and upheaval; however, in this case factions come down to blood itself. Red bloods are regular, normal persons, and generally viewed as unimportant. Silver bloods, however, are known to have amazing powers that put them on the top of the societal food chain. What happens, though, when a red blood, Mare, begins showing signs of powers she shouldn't have?
 Under The Never Sky is probably most similar to Legend, in that the two protagonists come from two very different backgrounds and don't necessarily see eye-to-eye, at least not at first. Aria is a dweller, normally safe in the protected city of Reverie, but banished into the wasteland that Perry calls home. Alternating between the two characters, Under The Never Sky brings the reader into a strange and interesting world, and has a heavy focus on character development and relationships growing and changing over time.
Visit your local library to pick up any of these titles, or, if we don't have it in stock at the moment, put it on hold and pick it up at your local branch!
---
SHARE THIS: