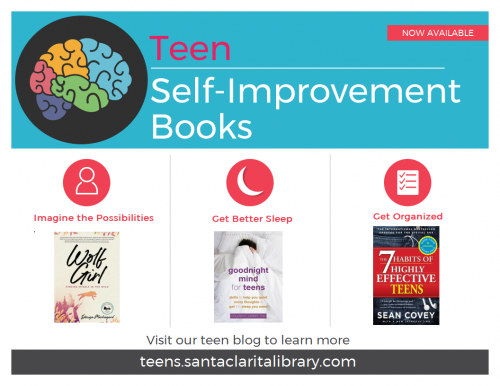 As a teen librarian, I cannot tell you how many times I have been asked by teens for books that will help them improve their lives. These requests often turn into wonderful conversations about all the ways we can take that first step.  There are many topics to choose from such as fitness, nutrition, study habits, mental health, speaking skills, and spirituality.  Don't worry about the amount of information out there. Just pick a topic and give it a try. Take one small step at a time.
---
If you have a lot on your mind lately, as many people do, you might want to place a hold on this new book, which, can help you improve the health of your mind and body. Do you know how important sleep is?
Goodnight mind for teens : skills to help you quiet noisy thoughts & get the sleep you need by Carney, Colleen
---
If you would like to get your mind off of your personal woes, try reading a biography from a teen who has a very different life from most of us! Wolf Girl is a new release about a teen's survival in the wilderness. Hard to believe this is non-fiction!
Wolf Girl : finding myself in the wild by Markegard, Doniga
---
All teens will benefit from this classic book from Sean Covey. There's even a free app called My Effectiveness Habits that will help you prioritize your goals similar to what is taught in the book.
The 7 habits of highly effective teens : the ultimate teenage success guide by Covey, Sean.
---
Click on the titles above to go straight to our catalog and put your next self-help book on hold! Or ask your friendly librarian for help finding the book that's right for you.
---
SHARE THIS: