Happy Monday Everybody!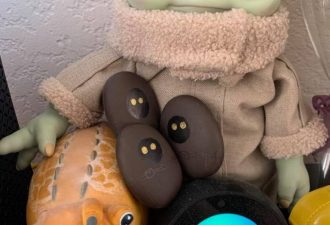 While I was puttering around the internet this weekend I found a fun looking project that I had to share with all of you.
Jawa Rocks!
Now you'll look at these Jawas painted by the blogger linked above and perhaps notice something: They're Tatooine Jawas!
How do I know? They're wearing bright reddish brown cloaks over their shadowed faces and bright eyes. Now, I didn't have paint in that color at home–so I took a look at what I had in my paint drawer and pulled out what I thought might make a good match. I had "Gloss Black," "Brown Oxide," and "Barn Red."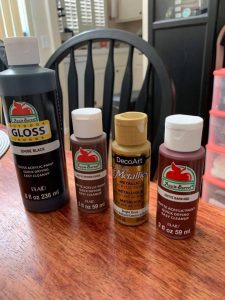 With these colors I thought I might be able to mix them up into a color similar to the "Tatooine" Jawa we all know and love from "Star Wars."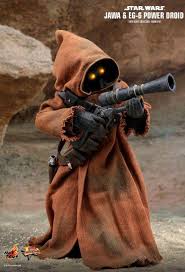 It… didn't work out like that! What I mixed up turned out to be a little too dark–more of a yucky mud color rather than the rich red color of the Tatooine Jawa. (As you can see)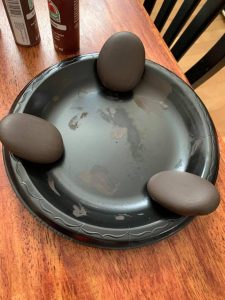 Thankfully–I'm imaginative and knowledgeable about the new show "The Mandalorian" and knew the Jawas on Arvala-7 (where THIS SPOILER was found) had a little bit of a dustier cast to their cloaks than those on Tatooine.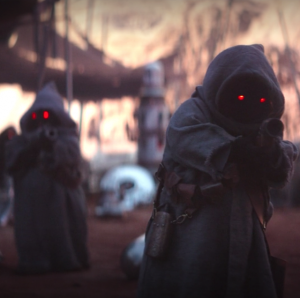 So I ran with it! (Ignore the red eyes on these darker cloaked Jawas, I had gold paint–close enough to yellow–and wanted my Jawas to look less menacing. And you can make yours with whatever color cloak and eyes you want!)
So after I'd fully coated my rocks in the grey-brown color I'd mixed up, I slapped some face-in-shadow circles on there, let them dry fully (yeah right, I waited just long enough so I didn't lose my mind with anticipation), and added the final details of golden eyes and little belts.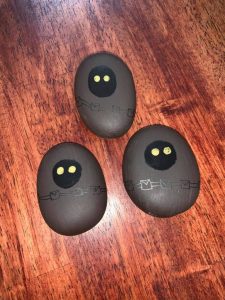 The belts are hard to see on my accidental Arvala-7 Jawas–and I might still go back and repaint them a lighter brown color to make them more "leather-like"–but that's it!
Super easy craft. Get creative with it and share pictures of your finished projects with me at kfitzpatrick@santa-clarita.com and they may wind up featured in an upcoming social media post!
Thanks for reading everyone, hope you have fun with this one!
~Kendra
---
SHARE THIS: