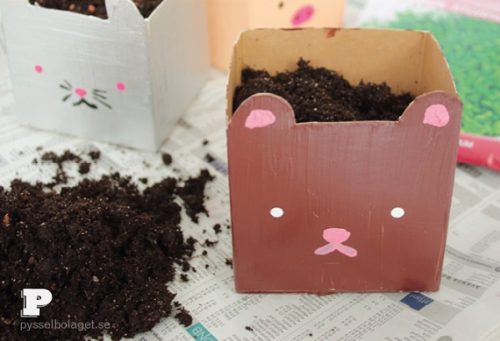 Since you're doing schoolwork from home, why not try gardening as a fun and relaxing hobby to help you de-stress from your workload! Here are some easy DIY planters you can make from milk cartons. These are also great for storing pens, markers, and all types of crafting supplies to keep your home desk organized.
Supplies
Milk carton (cleaned)
Scissors
Sharpie or Pen
Scratch paper
Paint (optional)
Decorative paper (optional)
Washi tape (optional)
Directions
Trace out the milk carton on scratch paper and cut out the tracing.
Create a template of your preferred animal. (This will  help to ensure all 4 sides of the milk carton have the same animal outline.)
Cut out template and trace onto all 4 sides of the milk carton to create your outline.
Cut out the outline on the milk carton
Decorate!
Tips & Tricks
I used several toilet paper rolls to make small compartments on the insides of the carton, since I was using my animal container to store writing supplies.
If you want to plant some seeds, I used an old paper or plastic cup to grow the plant. Then, I placed this cup inside the animal planter to make it last longer!
---
SHARE THIS: