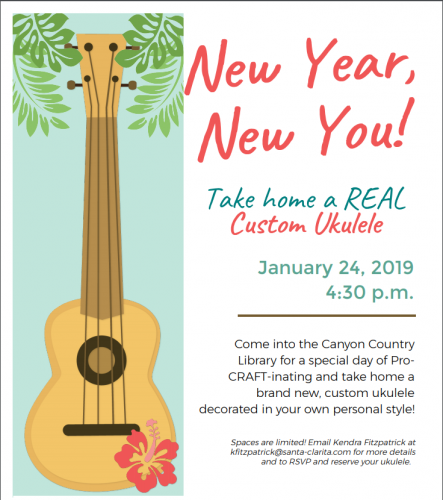 Happy New Year!
There's no better time to throw yourself into new experiences, and where better to try something new than at the library, where everything is FREE!
Come into the Canyon Country Library on Thursday afternoons for the entire month of January for a series of special Pro-CRAFT-ination events.
January 3rd: Learn to Sew! Bring in some old or damaged clothing to repair, revamp, and re-imagine your old clothes.
January 10th: Learn to Cook! Make a microwave mug cake for one. Allergy free options are available, and each participant gets a free mug to take home!
January 17th: Learn to Paint! UV reactive paint brings your art to life. Each participant gets a 2″ x 2″ wooden block to paint on. Bring a photo for inspiration or just paint from your imagination! There's no right or wrong way to complete this lesson.
January 24th: Customize a REAL Ukulele! Use some of your new found painting skills to decorate a real Ukulele. Registration required. 15 slots available, register here now!
January 31st: Learn to Play Your Ukulele! Bring your Ukulele back to the branch for a special lesson in how to play every song with only a few simple chords. Special Instructor: Miss Michelle.
It's a "New Year, New You!" kind of season. Jump in head first and try something new with us at the Canyon Country Library!
Address: 18601 Soledad Canyon Road, Canyon Country, 91351
Contact: kfitzpatrick@santa-clarita.com
---
SHARE THIS: