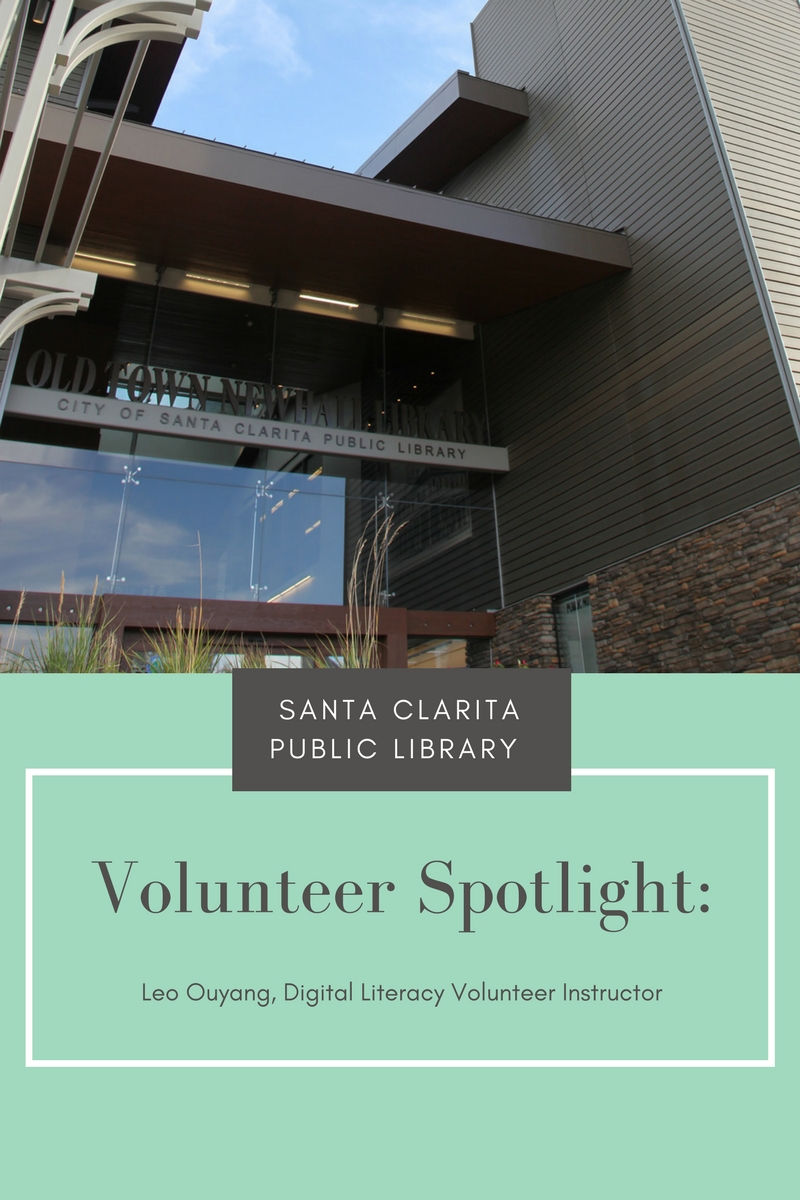 We value each and every teen volunteer who shares their time with our library. The Santa Clarita Public Library can't say enough about the incredible teens who volunteer with us, and who become the heart of our special events, fun teen programming, and general operation of library services.
Volunteer work can range from being here during our Summer Reading Program, assisting with shelving duties, being involved in our Teen Advisory Board, and being a Digital Literacy Volunteer Instructor for our digital literacy program.
This summer, we were thrilled to be approached by Leo Ouyang, a high school senior who was interested in teaching computer languages. Leo wanted to spend his summer volunteering with us for Summer Reading and as a volunteer instructor. His passion about computer science was evident during his sessions, where he used free online web platforms to demonstrate the basics of Python and C++.  Participants in his class practiced writing strings of code, including how to write a program that would do simple mathematical equations in order of operation.  Class attendance skill level ranged from intermediate knowledge to those who had never heard of the computer languages before.
Thanks Leo!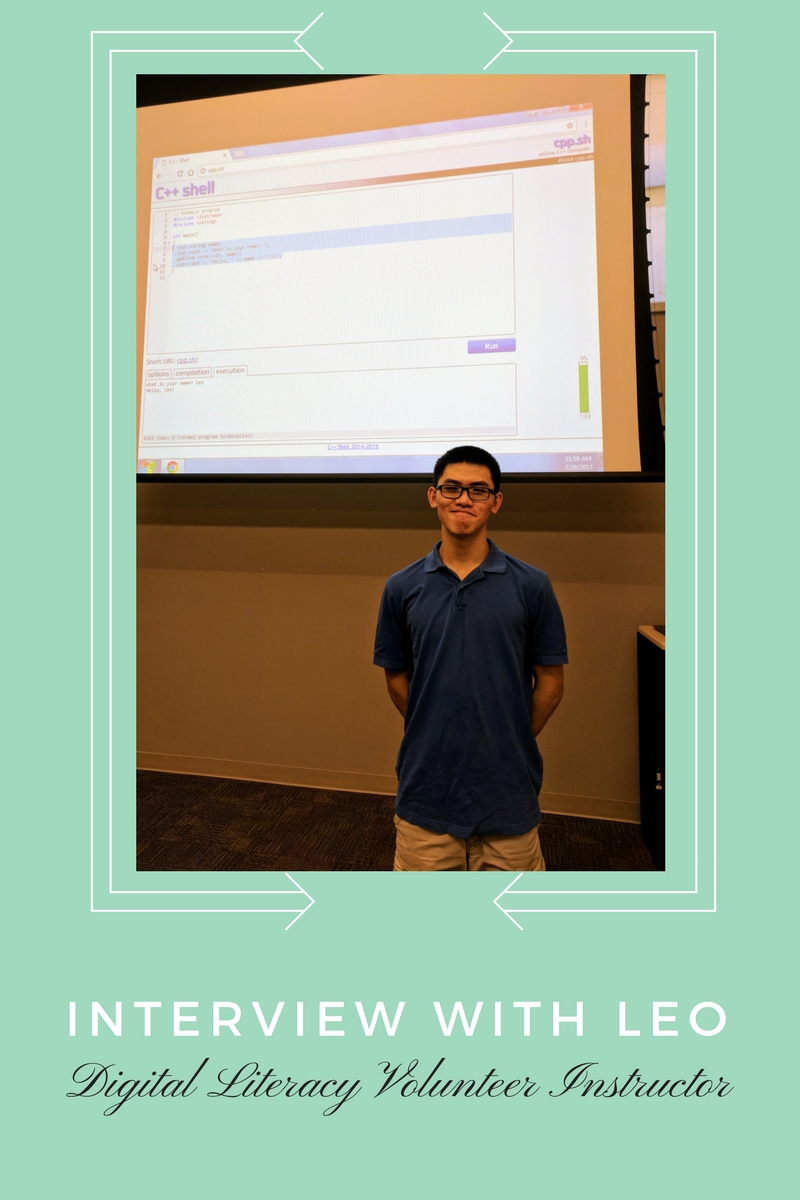 What motivated you to become a Digital Literacy Volunteer Instructor over the summer?
I had always been interested in teaching and computer science. So I figured, why not do something I love with a subject I love?
How did you learn computer languages? In school, self-taught, online courses?
I self-taught C++ (my first language), took online courses for Python, HTML, and CSS, and went to school for Java.
Why do you think it's important to teach coding?
Computers are our future. They will play an increasingly large role within our lives as time passes. Learning to work with them will be as important as working with humans.
What was the best thing about volunteering your time this summer with Santa Clarita Public Library?
It was meeting new people and bringing them together. Even though I only had a few students, they all came from drastically different backgrounds yet we all found unity in an interest in computer science.
Tell us something surprising about yourself!
I was first inspired to code by playing video games, notably, Minecraft.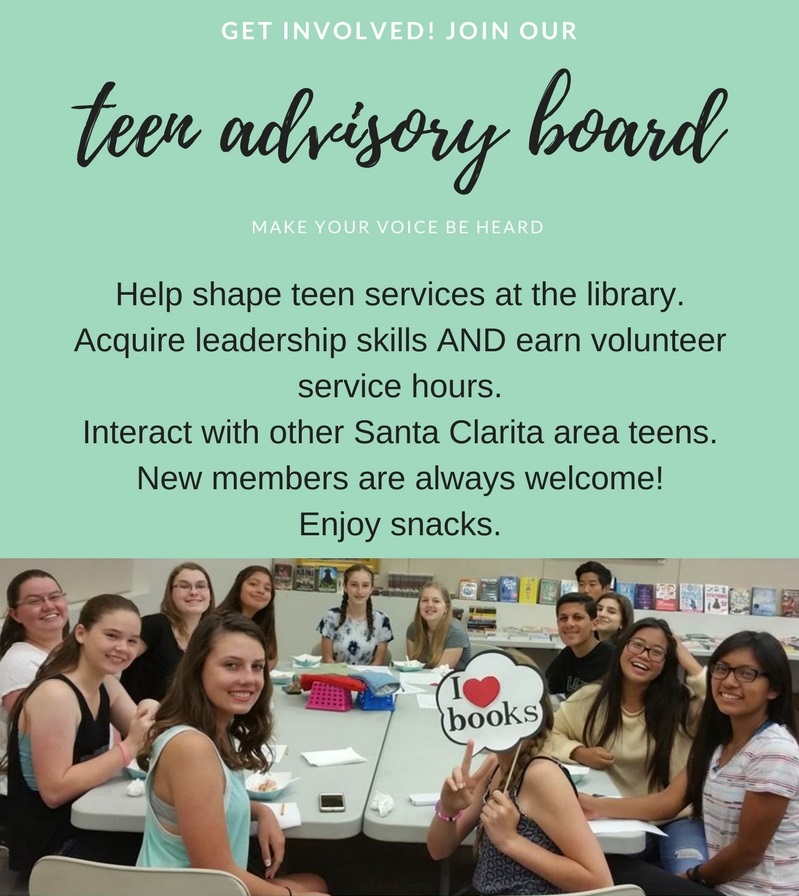 Get involved!
Teens ages 14 and up can assist with many activities such as organizing, shelving, helping children with their Homework and with after-school programs. All teens are required to be interviewed or attend an orientation. In order to be scheduled for an interview/orientation, please click on the link "sign-up to volunteer" and complete the application process. Be sure to indicate which library you are applying too.
Make your voice heard! Be part of your local Teen Advisory Board.
Help shape teen services at the library.
Acquire leadership skills AND earn volunteer service hours.
Interact with other Santa Clarita area teens.
New members are always welcome!
Enjoy snacks.
TAB meetings are held monthly during the school year, September through May (unless otherwise noted), at your local branch of the Santa Clarita Public Library.
For more information on the Teen Advisory Board, click here
To sign up as a volunteer, click here
---
SHARE THIS: